The point-of-sale (POS) feature allows you to quickly process a transaction at your campground store. POS transactions are not tied to a guest, as they are meant to be a quick way to exchange payment for goods using a digital cash register.
POS Items and Categories
Before you can use the POS Register, you must add POS items. Click POS Items from the menu under the Point of Sale section.
Click New Item to begin adding a new item. Enter all the item details in the dialog that displays, and select Save.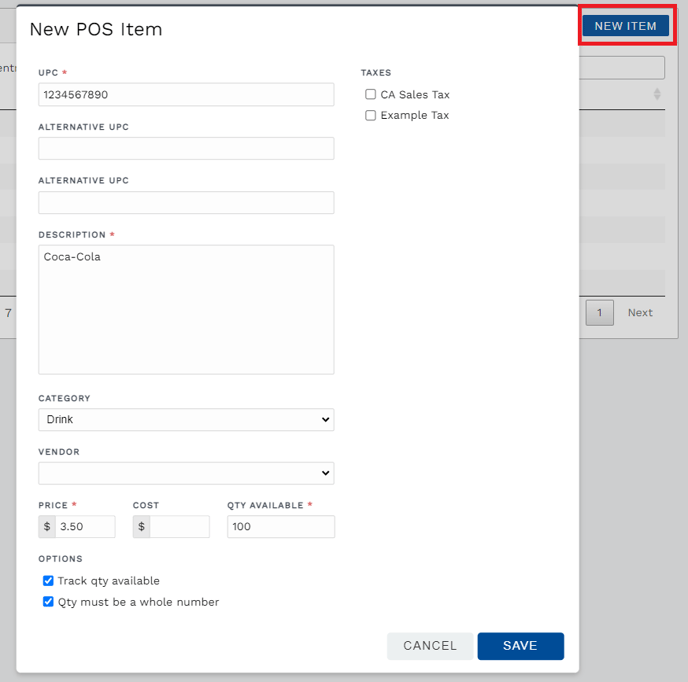 Once all POS items have been added, you are ready to use the register.
You also have the option to set up POS categories. Grouping items within categories will give you better ability to find items in the register and pull more detailed reporting. To set up categories, click POS Item Categories from the menu under Settings.
POS Register
To open the register, select POS Register from the main menu under the Point of Sale section. If you have a barcode scanner plugged into your computer, you can scan the barcode of your product now. If not, enter the UPC using the keyboard, and push enter to add the item to the transaction.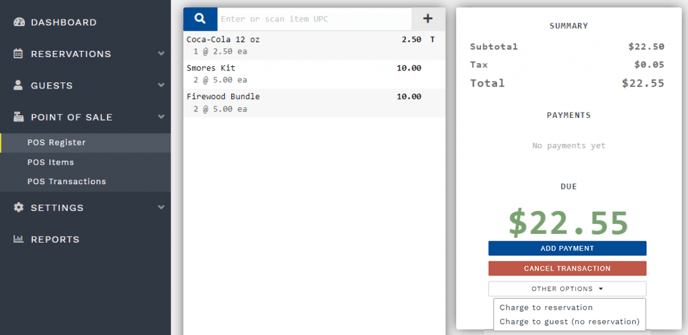 If the product is missing a barcode, you can use the search button to find the item by description. Click the search button (with a magnifying glass icon), enter at least part of the description and click the search button, or utilize the quick buttons that filter items by category.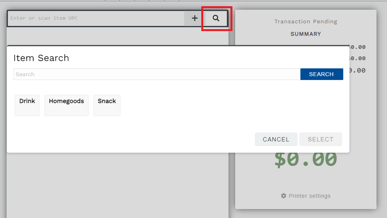 You can edit an item's quantity or price by clicking the item. Update they quantity or price and click the green check mark to save. The new amount will be reflected in the total.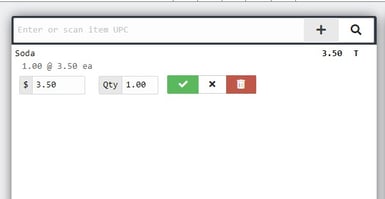 When all items are added to the transaction, click Add Payment to add a payment and complete the transaction. You also have the option to charge a POS transaction to a reservation or a guest. See the respective knowledge base article for those options.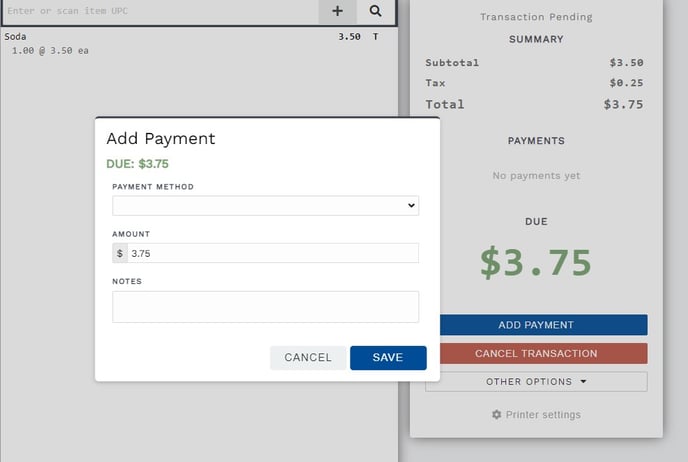 Select the payment method and enter an amount, and click Save to complete payment.
Once all payments are added and the balance due is 0, you can click Print Receipt to print a receipt.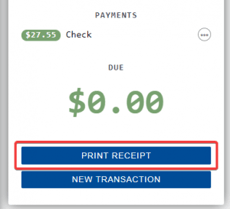 You will then see a preview of the receipt in a new browser window. Use the browsers print functionality to print the receipt.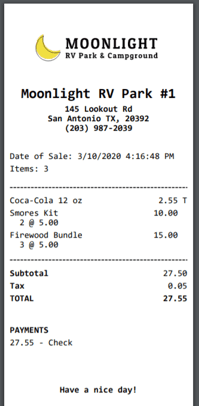 The default receipt width is 3 inches, which will fit most standard receipt printers. To customize the receipt width, go to property settings, select the POS tab, and update the receipt width.

Point of Sale Transactions
To view a list of POS transactions, select the POS Transactions menu option from the Point of Sale section of the main menu. You will see both completed and pending transactions. Click on a transaction to go to the POS Register and view that transaction.