Creating A Recurring Charge Early
If you want to create a recurring charge early, and send the guest a notification of the upcoming charge, now you can. This feature is for when you want to create a charge earlier than you want to process the payment, so you can send the guest a notification of the upcoming charge. Normally, the recurring charge is created, and payment is automatically processed at the same time if you have the auto process payment option selected. Creating the recurring charge early, will allow you to automatically process a recurring payment, and warn the guest that there is an upcoming recurring charge that will be processed in X amount of days.
Editing the Recurring Charge
First, you will want to edit the recurring charge so the next one will be created early. Click on the three dots next to the recurring charge and click edit. You can edit the number of days early to create the recurring charge. For example, say you have a recurring charge that processes on the 16th of every month, but you want to send the guest a notification ahead of time. You will put the "create days early" to -2. Now, the recurring charge will be create a new charge each month on the 14th. You will now have a charge created, so you can send a notification that the upcoming payment will be processed in 2 days. Check the "Auto Process Payment" box and the "Send email notification of upcoming payment and process payment in X days" box. The days do not have to match, you can create the charge 3 days early and send the notification 1 day early.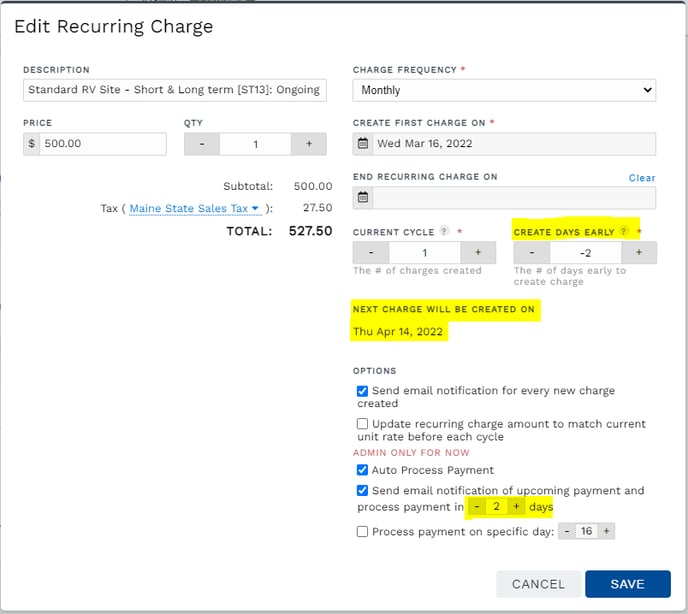 That is all! Save the recurring charge, and now each charge will be created early by the number of days you specified.