You get to choose the content
Of all the emails that get sent to your campground guests, you can customize the contents of every one of them. Your guest will receive an email when they make a successful reservation, shortly before their arrival, immediately after their departure, for every successful and failed payment, when their credit card is expiring soon, and more. Go to Settings > Email Templates to view all the available email templates.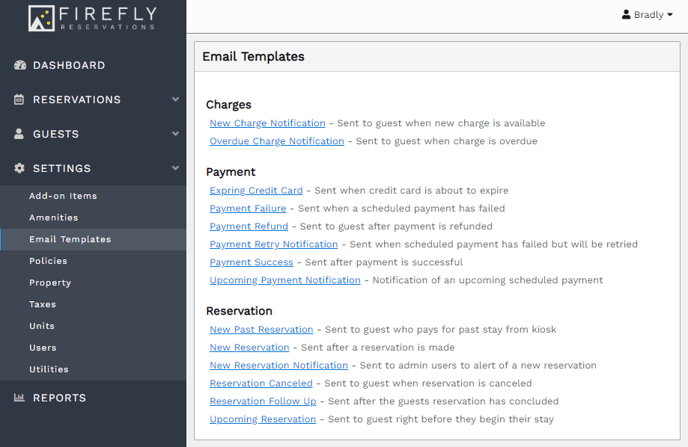 Once you select an email template to edit, the email template editor will be displayed. All of the available placeholders will be listed at the top. To enter a placeholder into the subject or body, just place your cursor in the location you want the placeholder inserted, and click the placeholder. The placeholder will show in the email template with two brackets on each side. For example, when the email is actually sent, will be replaced with the guests first name.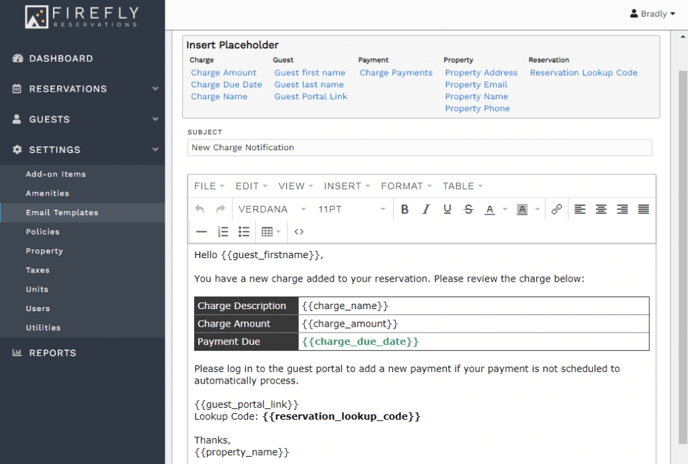 Use the content style buttons in the toolbar to format the content of the email. You can set fonts, font sizes, text color, background color, set text to bold or italics, underline, and much more. Tables can be inserted into the email as well. You can even format the placeholders, and the format will remain with the placeholder is replaced with the actual value.
That is it! With Firefly's easy email template editor, your RV park or campground guests will soon be receiving emails with your personal touch.