Payment methods accepted
Guests can keep a payment method on file so recurring charges such as monthly rent or utilities can be processed automatically. This is not only beneficial for your guests since they do not have to remember to pay those bills manually, but this is extremely useful for you since automatic payments lead to less unpaid charges.
Firefly Reservations accepts two types of methods that can be stored on file - credit cards and bank accounts for bank transfers.
Adding a payment method on file
When a guest makes a reservation, the credit card they use to pay will be stored automatically. However, if you don't require guests to pay when they reserve, or if a guest wants to add a different payment method on file, this can be done from the reservation. If no payment method is on file, you will see a link that says 'Add payment method' on the overview panel in the 'Charges' tab.

If a payment method is on file, you will see the current payment method listed with a link to update the payment method.

Select the link to add or update the payment method. Select the appropriate tab to add the desired payment method type, and click 'Save'.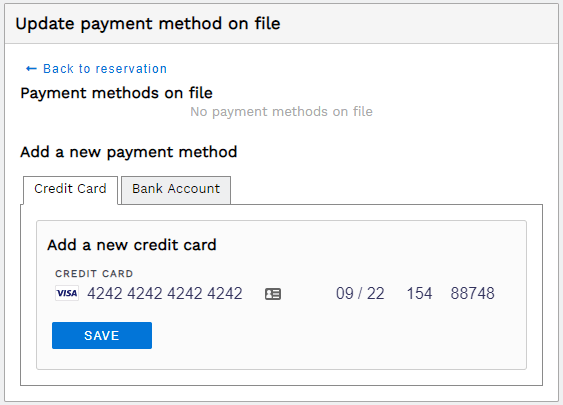 If you add a bank account, you will see a red 'Unverified' section. Bank accounts must be verified by the guest. Two small deposits will be made to the guests bank account within 24-48 hours.
When the guests informs you of the values that were deposited, enter them into the verification amount boxes. This bank account will then be displayed as verified.
If multiple payment methods are on file, you can click 'Set as default' on the desired payment method to make that payment method the default. This will be the method that is used when payments are scheduled.