Want to prevent guests with older RV's from being able to make a reservation? Firefly allows you to do this so your property can maintain a desirable appearance.
Set Minimum Manufacture Age Allowed
First, you will need to indicate the minimum manufacture year allowed at each unit. This setting can be unique for each unit, making it possible to allow older RV's at the back of your park for example.
Navigate to a unit, and on the General tab, set the minimum year in the Min Manufacture Year field.

Click Save to save your changes. Remember you can export these changes to other units to quickly add age restrictions to your whole property.
Ask RV Year on the Reservation Portal
To require guests enter the year of their RV, go to Settings > Property and on the Reservations tab, check the "Ask for age of guest's RV" checkbox.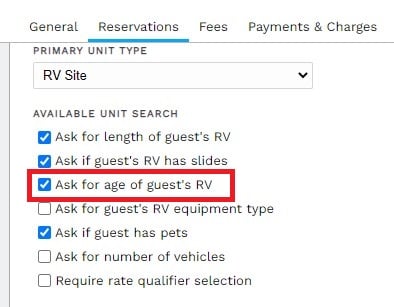 Reservation Portal
Now, when a guest makes a reservation, or when a reservation is made from the back end, the year of the RV must be entered in order to search for results.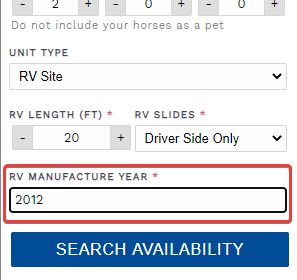 When the RV manufacture year entered does not meet the minimum requirement set for a unit, the unit will be unavailable and the reason will be displayed.