Receipts can be printed to a regular printer when using the POS register. However, this requires a few extra clicks as you would need to select the printer, click ok, etc.
Direct printing allows receipts to be printed with no other input as soon as Print Receipt is clicked. To enable direct printing, you must have a STAR brand printer with WebPrint capabilities. A great printer we recommend is the mC-Print3. Follow the steps below to set up your printer.
Set up printer
First, you will need to make sure you printer is connect to the network via an ethernet network cable. The printer should be plugged in to your router.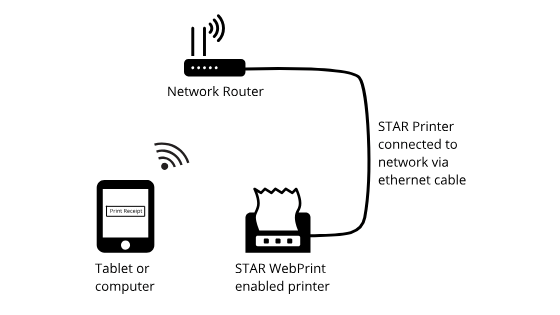 Once the printer is connected to the network, follow the instructions that came with your printer to acquire the IP address of your printer. Usually, you will turn off the printer, then hold down the paper feed button while turning the printer back on. This will print out the printer specs including the IP address. The IP address will be in the format similar to this: 192.168.1.123.
Open Printer Settings
Next, you will need to configure the printer in Firefly. You will need to do this for each device. Go to the POS register and click on Printer Settings at the bottom of the pane on the right hand side.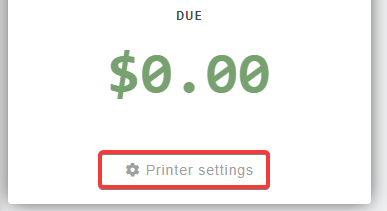 Next, select the STAR WebPrint option.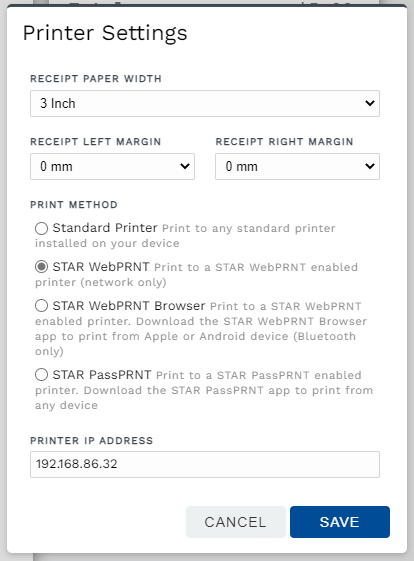 Enter the IP address in the IP Address textbox at the bottom of the printer settings form.
Starting in September 2022, you must follow these instructions to enable secure print which allows your device to trust your printer.
Set the correct width paper, and the click Save.
Now you can test the printer settings. Click Print Receipt and the printer should immediately print out a receipt.
Note: When you click Printer, a new tab will open with a preview of the receipt and a print status log while the receipt prints. If your browser prompts you that a pop-up was blocked, you must tell the browser to allow pop-ups before you will be able to print.
Cash Drawer
If you want to hook up a cash drawer to the printer so the cash drawer automatically opens each time a receipt prints, you can follow the instructions in the link below to enable this setting on your printer:
https://www.starmicronics.com/help-center/knowledge-base/how-to-open-enable-a-cash-drawer-in-windows/