Using the Self Serve Kiosk
Using the Self Serve Kiosk
What happens when a potential guest rolls onto your property five minutes after the offices closes and they do not have a reservation? Do they try calling the after hours number with no luck? Do they just pull into a space and hope nobody already reserved it for the night?
This is a problem easily solved with a kiosk. A kiosk is simply a computer or tablet secured in a location open 24 hours a day to your guests. When they arrive after hours to find the office staff gone for the day, they will see the kiosk available in the lobby of your office. They are presented with five options: Check in, Make a reservation, Pay for a past stay, Manage my reservation, and Check out.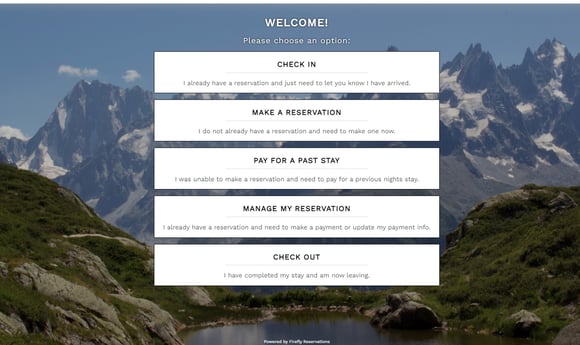 Check In
If the guest already has a reservation, this option allows the guest to check in when they arrive so you know they have arrived. This information is recorded on their reservation so you can track no-shows.
Make a Reservation
Guests who arrive at your property who do not already have a reservation can choose this option and reserve a space using the reservation portal. This is the same reservation portal your guests use from your website, so the experience will be the same. They will be able to view real time availability of spaces, and they will have assurance that the space they choose is not already reserved. Plus, they can pay for the reservation immediately so you get paid quicker.
Pay for a Past Stay
On rare occasions, a guest may pull into an open space late at night without having made a previous reservation. Even if you require all guests to have a reservation be staying, this scenario is still possible and understandable, as this is standard procedure at many parks. When morning arrives, the guest would just need to visit the kiosk and select this option to pay for the previous nights stay. This logs the stay in the system as a regular reservation for reporting purposes.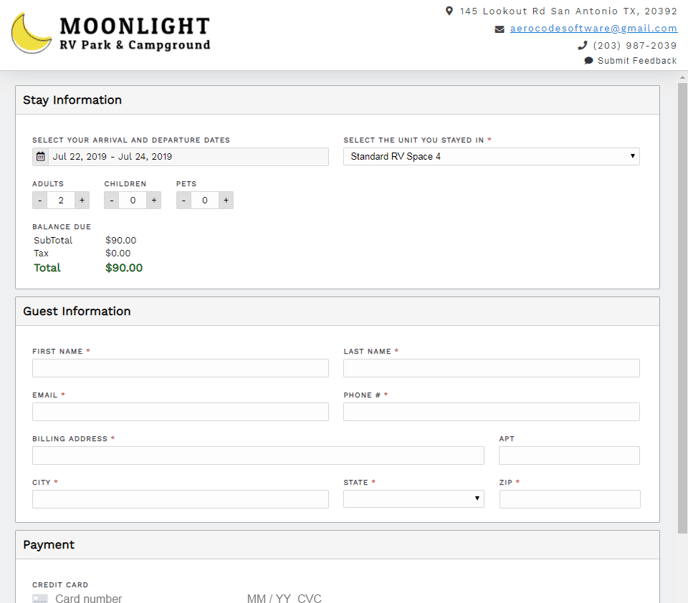 Manage my Reservation
Finally, the last option allows the guest to view and manage their reservation by opening the guest portal. This is the same guest portal that is accessible online. The guest portal allows for the guest to view and make payments, update payment methods on file, and view reservation details. This can be useful if the guest does not have access to a computer or tablet to user the guest portal on their own.
Check Out
If a guest already has a reservation, this options allows guests to complete check out. When clicked a guest will be prompted to enter their first and last name associated to the reservation. If the reservation is found, they can then proceed to check out.
Setting up your Kiosk
To view the URL to your properties Kiosk, just navigate to Settings > Property, and select the 'Kiosk' tab. You will see your Kiosk URL listed in blue text.

To set up your kiosk, simply set up a computer or tablet in a weatherproof location such as the lobby of your office. Windows 10 has a kiosk mode available which allows a PC to be locked down to where only 1 website can be used. When the computer is booted up, it goes directly to this site and the user cannot leave that site. Just enter your kiosk URL when setting up the kiosk, and you are all set. Here are instructions on using the Windows 10 Kiosk mode. There are kiosk apps available for iOS and Android tablets that provide similar features.