Using the grid is a quick and easy way to manage reservations. You can now create a reservation, add a unit block, check in / check out guests and lock / unlock a reservation all from the grid.
Creating a reservation or unit block from the grid
You can click and drag on the grid to quickly create a new reservation or a unit block. Once you have your desired dates selected, right click and you will have the following options: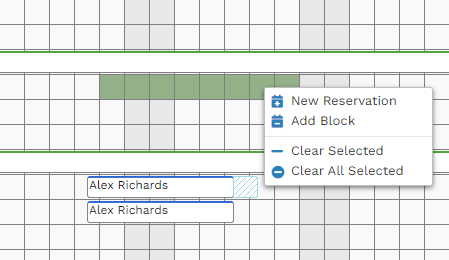 If you click 'add block' the unit block options will come up and you can select the reason for the block and any notes.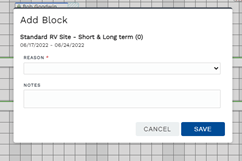 Click save, and then the block will show up right on the grid.
If you were to click 'new reservation' the options to add the correct number of adults, children, pets, and vehicles will appear.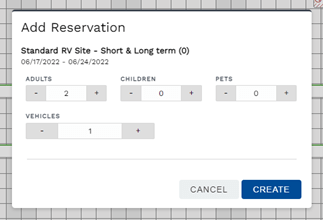 Once you click 'create' it will bring you right to the new reservation page, with the specific unit and date range already selected. Then you can continue to create the new reservation just like normal. Select the guest, and any add-ons that you may want, and create the reservation.
You also have the option to make multiple reservations at once from the grid. You can select multiple units and dates as needed. As you can see below, with multiple units and dates selected, (green) you can make a new reservation with the different options for each unit.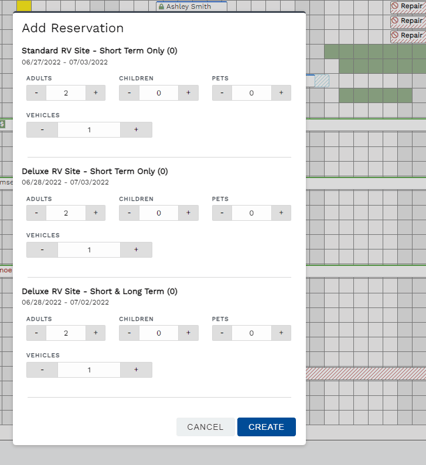 Editing current reservations from the grid
If you right click on a current reservation from the grid, you have the following options: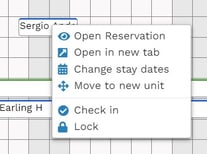 You can open the reservation, change the stay dates, move to a new unit, check them in or out, or lock the unit. If you do charge for a unit lock fee, then it will automatically add the fee onto the reservation charges tab.