A group hold is a set of units set aside for individuals of a group to reserve at their convenience. The individual would simply need to enter the group code at the time they are making a reservation in order to view the available units set aside for their group.
Creating a group hold
To create a new group hold, click on Group Holds under the Reservations section of the main menu. On the group holds page, click New Group Hold in the top right.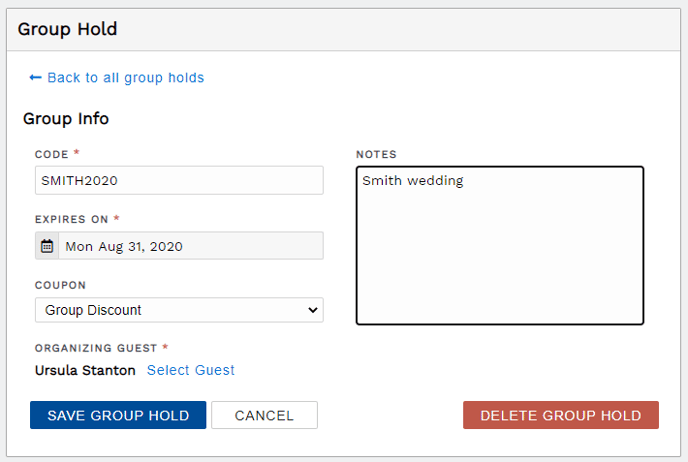 Enter the group code, expiration date, and guest. You can optionally specify a coupon which will automatically be applied when the guest makes a reservation.
The Code will be the unique code for this group the guest will enter on the reservation portal in order to access the units in this group.
The expiration date will be the date the guests need to make a reservation by. Once the expiration date is passed, the units in this group hold will be made available to the general public again.
Once all required fields have been filled, click Save group hold.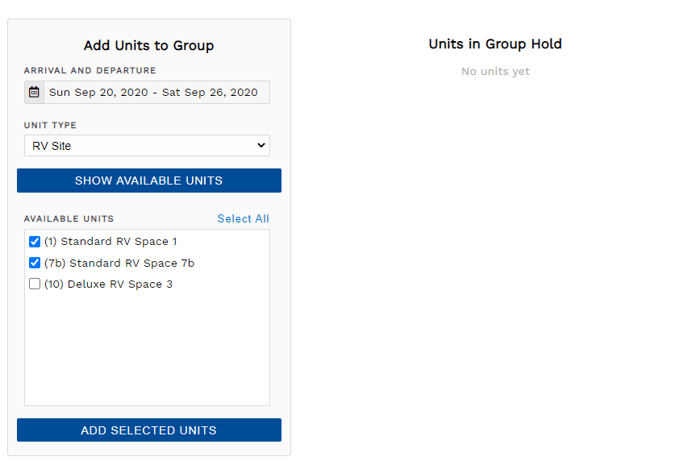 Once you click save, you will then be able to add units to the group hold. Enter the group hold date range and the unit type, and click Show available units.
Only units that are not occupied or blocked off will displayed in the search results. Select the units you want to hold, and click Add selected units.

You will then see the units in the group hold and the dates they are held for. Your group hold is all set up!
The last thing you may want to do is email the groups organizing guest with information about the group hold they can forward to their friends so they can make a reservation.

Firefly makes this easy, simply click Send group hold email on the top right of the page.
The guest will receive an email similar to the one below. You can customize this email however you please under Settings > Email Templates.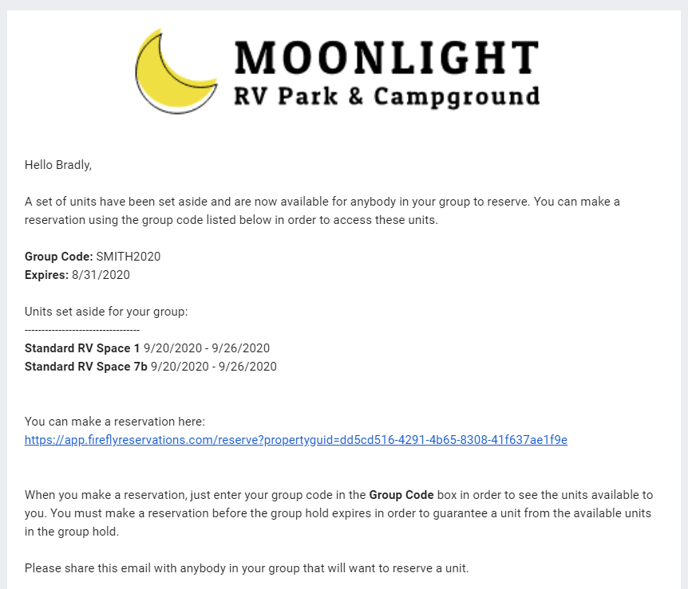 Making a reservation
When a guest is ready to make a reservation, they can do so from the reservation portal just like always. They will just need to enter their group code into the Group Code box in order to see the units set aside for their group.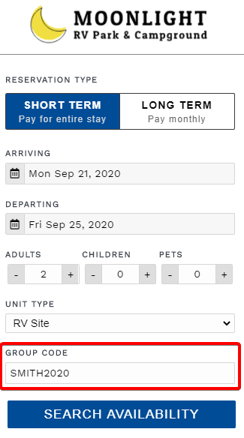 You can also create a reservation from the backend by clicking New Reservation under the Reservations section of the main menu. Once again, just enter the group code in order to see units set aside for a particular group.
This process allows each individual to manage and pay for their own reservations. If one guest were to cancel their reservation, that unit would be made available again to the group.