If you want to update your rates, photos, descriptions, etc, it can take quite a bit of time to do this for each one of your units. However, the import/export functionality makes this a breeze! If you need to update the rates for all units, just update the rates for one unit, then export the new rates to all other units.
First, select 1 unit and update the settings as you desire. Next, click the Options menu on the top right, and select Import/Export Unit Data.

You will now see the Import/Export options dialog. If you want to export data from the current unit to other units, select Export. If you want to import settings from another unit to the current unit, select Import.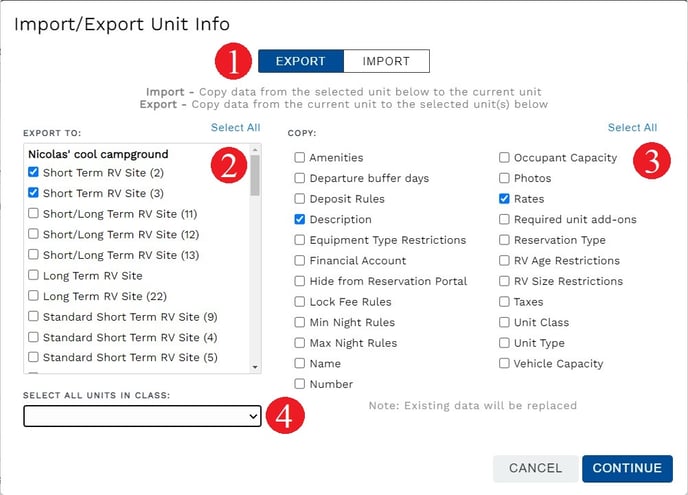 In this case, we will choose Export (1). Next, choose any number of units you want to export to (2). You can also select all units from a unit class from the dropdown. This will automatically select them above (4). Finally, choose which settings you want to export to the selected units (3). Once all settings have been chosen, click Continue.
A success message will be displayed when the settings have successfully exported. Return to the unit list and select one of the units you exported data too. You can now verify the unit has been successfully updated!
Remember, if you want to duplicate a unit, use the Clone feature.