Steps for setting up your Firefly OTA Channel Manager for Airbnb
Need a walkthrough training on getting your AirBnB integration set up in Firefly? Schedule a dedicated call with our team here:
Set up your Airbnb Account - Here is a direct link to Airbnb's help article on getting set up. You will want to set up your Airbnb account before proceeding to the next steps
Check Airbnb Requirements - Airbnb has some local laws and requirements for parks to meet and to be in accordance with. Before being able to utilize our integration, please check to make sure that you meet them.
Set up Currency - Your currency needs to be properly configured in Firefly first before connecting any units through the OTA Channel Manager.
This can be found via Settings > Property > General (Tab) > Currency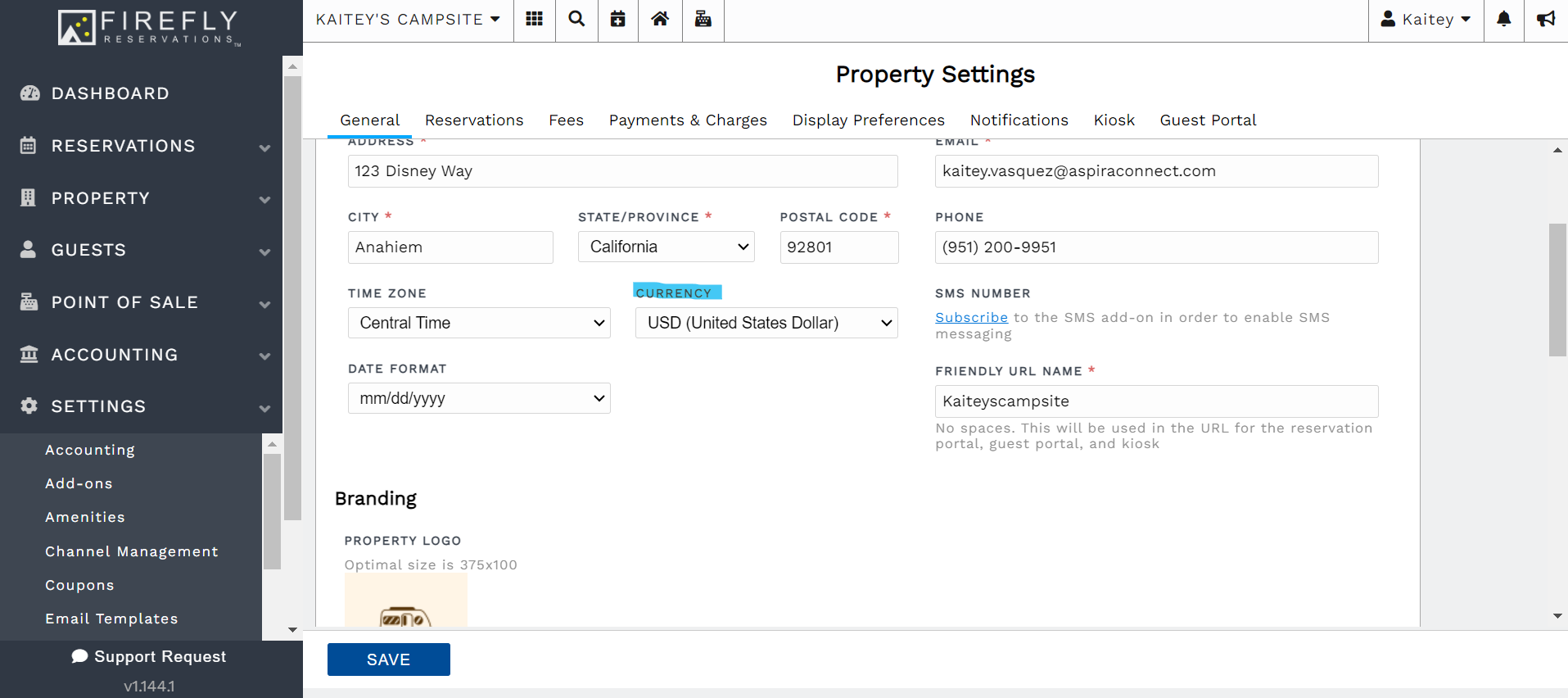 Subscribe to the Airbnb Add-On - In order to connect to the Firefly OTA Channel Manager, you will need to be subscribed to the add-on. This is something an account admin can do.
1. Navigate to your Account Manager Settings
2. Click on the Addons Tab
3. Check the box next to Firefly OTA Channel Management
4. Click Save
Connect with Airbnb and Units
Navigate to app.fireflyreservations.com
Sign into your Firefly Reservations Account
Go to Settings
Go to Channel Management
Now, you will see the option to "Firefly Reservations OTA Channel Manager"


Click Connect
Click Connect Property
The properties listed on this screen come directly from your Units (Settings > Units)
Click the check box next to the unit(s) you wish to connect.
Click Channel Setup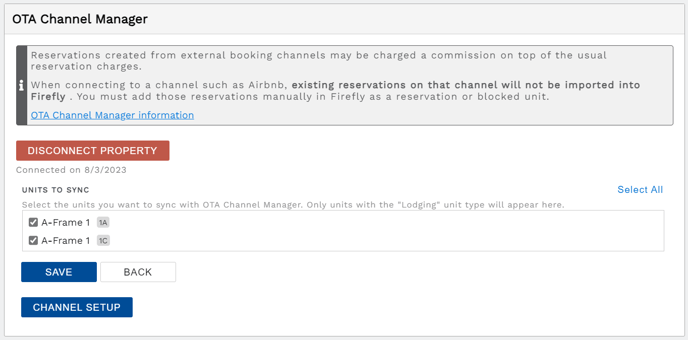 Note:
Only "Lodging" unit types will appear in this list. Until then, the Channel Setup button will be hidden and the Save button will be disabled. Each of these units will need to have a unique unit number for each unit name in order for them to be able to be synced. If the units are grayed out and unable to be selected, this means that the unit name/number combination isn't unique. Each unit must have a unique name and number combination in order to connect. Once you have selected the units you want to sync, click "Channel Setup".
Channel
Mapping
Starting on the second "OTA Channel Manager" page, you can set up your Airbnb channel and inventory.
Inventory Tab Considerations:
If a unit is selected from the first "OTA Channel Manager" page to be synced, it will appear under this tab
You can manage/override (select date/date range) rates for any connected unit for specific dates via the Value Override. This can be one at a time or by the bulk method.

Any rates that are changed here would directly reflect within AirBNB, but would not change any existing rates that have already been created in Firefly.
Once these units are connected, the rates will need to be updated via this page/tab - they will not be able to be updated within AirBNB.
Once the rates are changed, the green update button needs to be selected to finalize those changes. The red undo button can be used to undo any changes.

You can refresh the overall availability of this inventory - this will reflect and sync Firefly availability with the Channel Manager. A "1" indicates that there is availability (AVL) and a "0" indicates that there isn't any availability.
Note: A connected unit can be edited from this tab from the unit name blue link, however, we do not advise doing this as this doesn't change anything.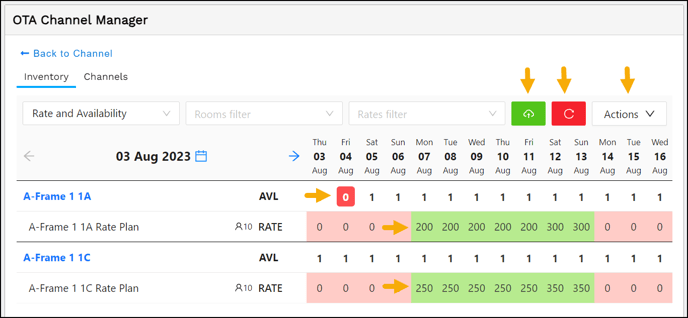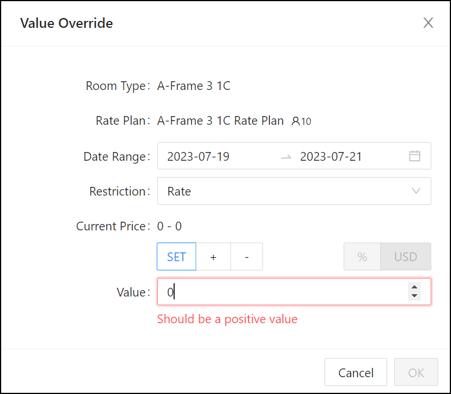 Channel Tab Considerations:
Under General Settings, you will be able to create one channel to connect directly to your AirBNB account. You can have one or multiple Firefly properties connected to a singular channel.
Under General Settings, you will be able to edit your channel once it's made - it's only advised that if editing, you only change your "Title" name
NOTE: When connecting to AirBNB via the red "Connect with AirBNB" button, you will need to provide a profile picture, phone number, etc. that the page asks them for.

NOTE: Once the channel is made, navigate to Actions > Edit > Mapping in order to map each connected unit in the Channel Manager with a listing in AirBNB. This will be a 1:1 relationship. This view will also show the one or multiple properties you connected to the channel. Once this is complete, you will also need to navigate to Actions > Activate in order to properly allow the connection between the Channel Manager and AirBNB.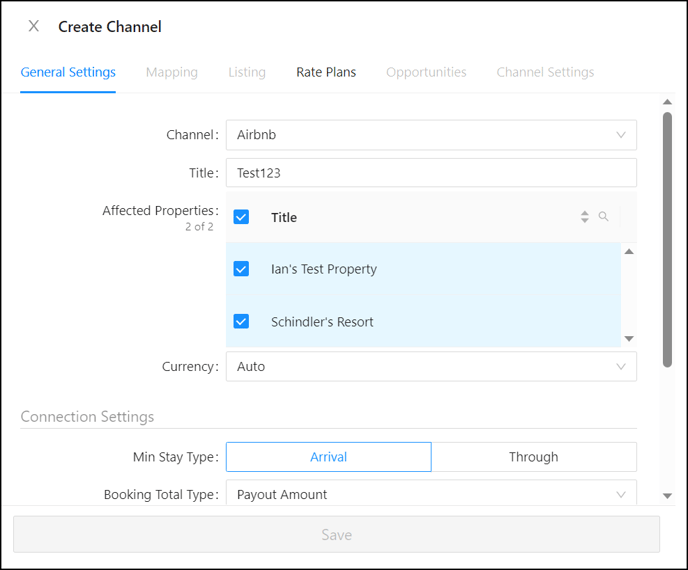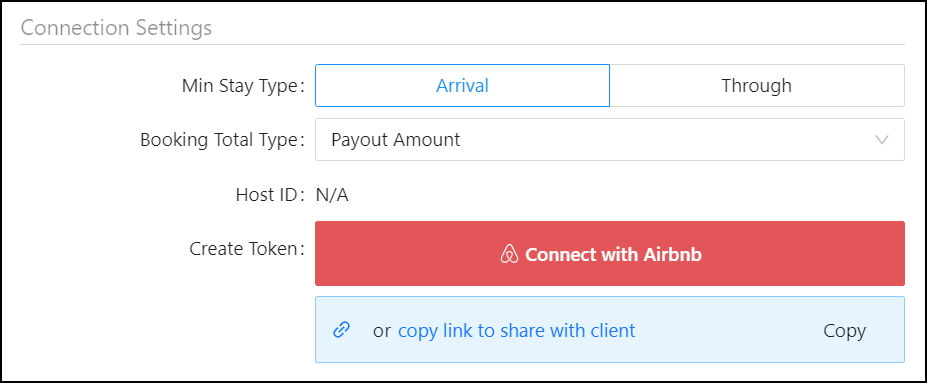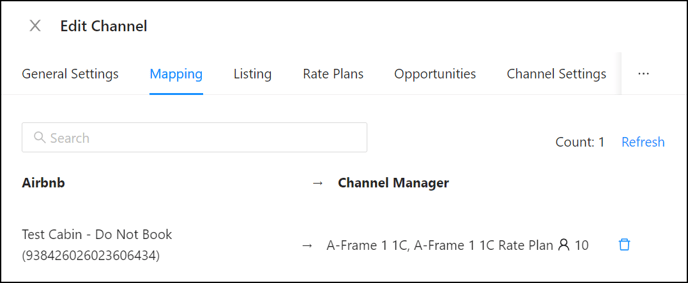 Disconnecting Properties
Undo the mapping of all units via Channel (Tab) > Create (Button) > Mapping (Tab)
Deactivate the activated channel from the Channel tab via Actions (Dropdown) > Deactivate (Button)
Delete the channel from the Channel tab via Actions (Dropdown) > Remove (Button)
Deselect each unit from the first "OTA Channel Manager" page and Save
Click Disconnect Property from the first "OTA Channel Manager" page
General Helpful Information
Charges and payments are handled by AirBNB much like reservation dates, so any unit charges created in Firefly for reservations made in AirBNB should not be editable. You cannot make payments or edit the charge in Firefly - this must be done in AirBNB.
Via Settings > Units > (Unit Selected) > "Allow external booking channel reservations only" (button)

this allows for a specific unit to only be booked via AirBNB, etc. and not through Firefly. If a reservation is attempted anywhere through Firefly for a unit with this enabled, an

error will appear stating that the "Unit only allows bookings from external booking channels".
Via the main Firefly dashboard, you'll now be able to see if any reservation conflicts have occurred. This isn't likely to happen, but could in the case that a block/reservation is being made in Firefly for the same dates that are being requested in AirBNB - this being at the same time. This conflict from the dashboard can be selected, which will take you to the conflicted AirBNB reservation. From here, you can navigate to the Firefly reservation/block in question and make any necessary changes. Once the reservation has been changed and there is no longer a conflict, a button stating "Conflict has been resolved" can be selected.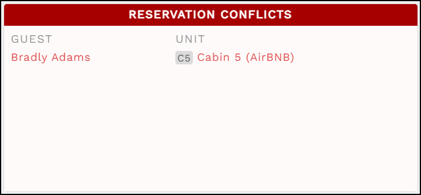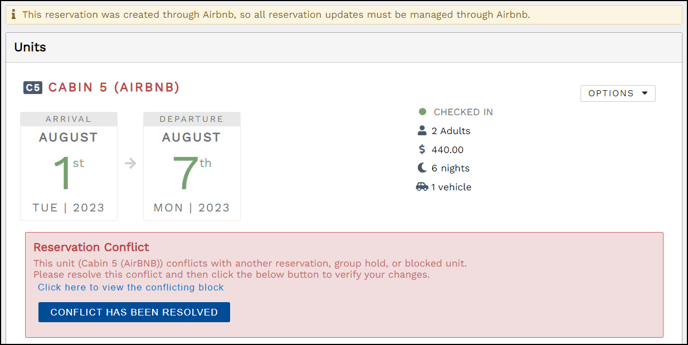 When you first connect to AirBNB and already had reservations created within AirBNB, you can click the "Pull Future Reservations" button from Channel (Tab) > Actions (Dropdown) > Pull Future Reservations (Button) within the OTA Channel Manager, which will grab all future reservations from AirBNB and insert them into Firefly. Doing this will allow any changes to those future reservations so they'll automatically be reflected in Firefly.
Reservation Grid
If a reservation is made in AirBNB for a Firefly unit that is connected to AirBNB through the Firefly OTA Channel Manager, the inventory/availability within Firefly will be directly impacted and a reservation for the AirBNB guest will display.
From the AirBNB guest's reservation, if you right click, the only info shown will be: Open Reservation, Open in new tab, and Check in/Check out. These reservations should be managed directly through AirBNB.

Reservation Details
For any reservation in the Reservation Grid that is for an AirBNB guest, some of the interactions in the reservation detail will be limited.
Via the Charges tab, payments can't be made towards a reservation unit charge
Via the Charges tab, you won't be able to edit a reservation unit charge
Via the Units tab and the Options button dropdown, we will hide: Change stay dates, Move to new unit, Convert to ongoing reservation, Update occupants, Add rate qualifier, and "Add Unit" button
Via the Guest tab, we will hide the Edit Guest, Change Guest, and Add Other Guests buttons
Guest Portal
For any reservation in Firefly that is for an AirBNB guest, some of the interactions will be limited.
Via the Make a Payment page, you won't be able to make payments for unit charges
Via the Reservation Detail page, we will hide the Request Different Unit, Request Changes to Date, and Request to Cancel Reservation buttons
Billing
This can be configured via the Addons tab from the Firefly Account Manager page. Contact Us for more information.