BASYS is our preferred payment processor due to their great rates, extremely fast payouts, and excellent live customer support. They are a smaller owned company that treats their customers like family which made them a great fit to be integrated with Firefly. Follow this guide to get started processing payments directly in Firefly using BASYS.
Set up a BASYS account
If you are already connected to a payment processor in Firefly and you switch to BASYS, existing payment methods on file will no longer work so you must re-add payment methods on file (credit cards, bank accounts) for each reservation in order to process payments using the payment method on file.
First, you will need to set up an account with BASYS. To do so, log in to Firefly and click Settings > Property. Click on the Payments tab at the top, and click the Create an account with BASYS link.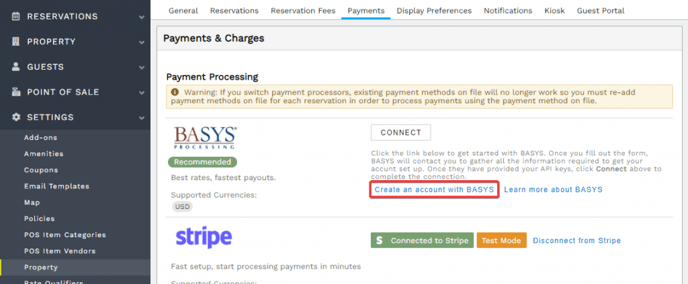 This will take you to the BASYS website where you will fill out a form to initiate the process of setting up an account. BASYS will contact you to gather all the required information in order to set up your account.
If you have a processor already, you can optionally upload your current merchant statement and BASYS will analyze what you are paying now, and compare it side-by-side with what you would be paying with BASYS.
Connect to your BASYS account
Once BASYS has contacted your and set up your BASYS account, they will provide you with login credentials in order to connect to your BASYS dashboard. Log in (https://app.basysiqpro.com/), click on your name on the top right, and click Manage API Keys.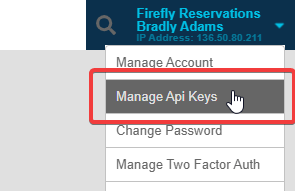 You will then see a Public API key and a Private API key.

You can then open Firefly in another tab, and go to Settings > Property, and on the Payments tab, click Connect.

You will then see where you can paste your public and private API keys found in your BASYS dashboard. Also be sure to select Live Mode since this is a live account.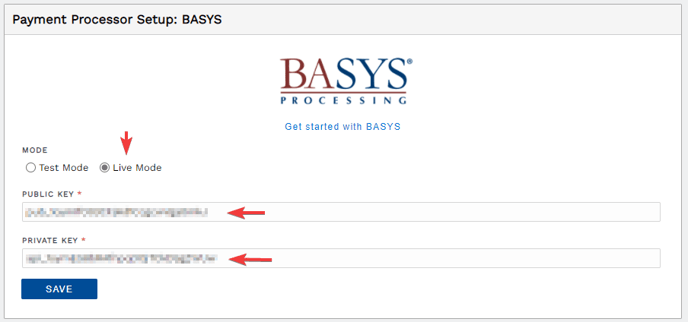 Click Save to save the BASYS connection details and you are complete! You are now ready to process payments in Firefly using BASYS.