If the guest has a payment method saved on file, you can schedule a payment for a future date. Payments can also be scheduled for recurring charges such as a monthly rent payment, so when a new charge is automatically created for a new month's rent, a payment can automatically be scheduled and the guest notified.
To create a new scheduled payment, navigate to the reservation detail page by clicking a reservation on the reservation grid, or select a reservation from the list of reservations on the reservation search page.
Click on the Charges tab to view all charges. To add a payment for a specific charge, click the charge option button (circle with 3 dots next to the charge amount), and select New Payment.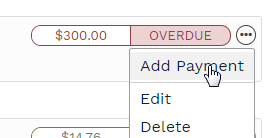 You can also add a payment by clicking the New Payment button in the top right menu bar.

Next, you will see the New Payment Dialog.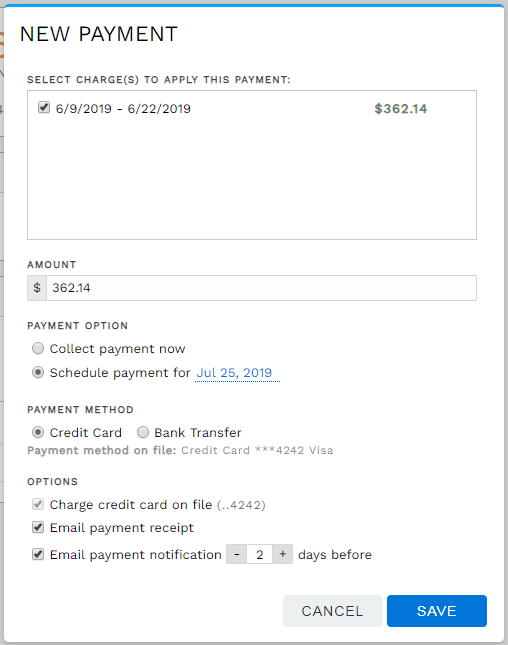 You can apply a payment to multiple charges. If multiple charges are listed in the top box, check each charge you want to apply a payment to. You can apply a partial payment if you only have a single charge chosen. If you have multiple charges chosen, the payment must be for the entire sum of the charges.
Select the Schedule payment for radio button. Click the date to select the day you want to schedule the payment for. You can only schedule a payment if the guest has a payment method on file, so this option will not appear if no payment method on file.
Choose the payment method. Only the payment method on file for the guest will be available.
Last, select any notification options you desire. Check Email payment receipt to email the payment a receipt once the payment has processed. Check Email payment notification x days before to email the guest prior to the payment processing to let them know of the upcoming payment. Email templates can be customized for these emails.
Click Save to complete the payment. That is all! The payment has been scheduled, and the scheduled payment can now be seen under the applicable charges.