Setting Up ReserveAmerica Connection
ReserveAmerica has over 12M visitors a year and is a leading destination for discovering, exploring, and booking campsites, cabins, yurts and more. Campers choose ReserveAmerica to book their camping trips over 1M times a year. Now, your Firefly park is automatically connected to ReserveAmerica to expand your reach for potential guests!
Your park is automatically connected to ReserveAmerica and we automatically setup the ReserveAmerica 10% fee to pass onto your guests so it wont cost anything extra to your park. The only thing that you need to do is fill out your Location Information for your park. Of course, you can always adjust or disconnect the fee.
Location Information
ReserveAmerica's search results are based on the property coordinates. You can fill out your location info from the general property settings. Go to Settings --> Property --> General tab. All the way at the bottom is the Location Information. Just fill out the text boxes that will show up in ReserveAmerica. If you don't know your property coordinates, there is a link below the coordinates box to help you find them!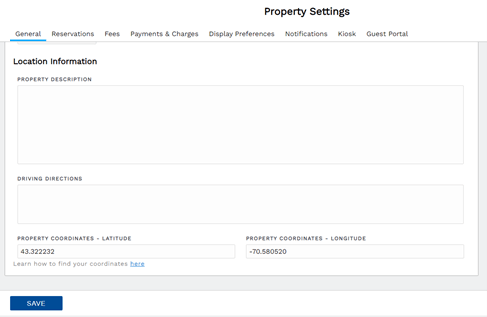 Changing the ReserveAmerica fee that's passed to your guests
ReserveAmerica charges 10% for reservations that are made through ReserveAmerica. We automatically set up a reservation fee to pass onto your guests to cover the 10% ReserveAmerica fee. You can change this to whatever you want if you don't want to pass it on to your guests. Go into Settings --> Property --> Fees. You will see the ReserveAmerica Fee setup to charge 10% to only ReserveAmerica reservations. You can click the three dots next to it and edit or delete it if you want. If you want to also pass the reservation fee to the guest for ReserveAmerica reervations, you can edit the fee and add the 10% + $3.50. The ReserveAmerica reservation fee should be at the top of the list or at least placed before any general catch all reservation fee that applies to any reservation source. If not ordered correctly, the wrong fee will be used. See more about reservation fees here.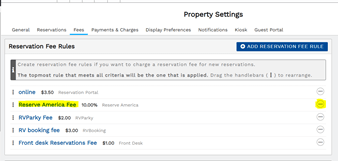 Reservations from ReserveAmerica
Now that you can accept reservations from ReserveAmerica, how can you tell which reservations came from there? The reservation source will show as ReserveAmerica if it's made from there, so you can run reports and filter by the reservation source. Each reservation will also give the history of what the reservation source is. Go to the history tab from the reservation and see the ReserveAmerica source at the very bottom.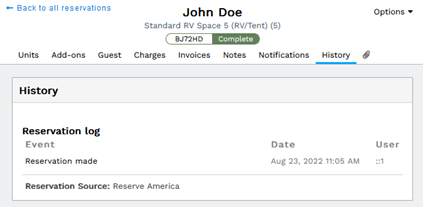 Lastly, how will this show up on my invoices? On your monthly invoices, there will just be a new line-item titled ReserveAmerica commission. Each month, it will take the total fees collected from ReserveAmerica reservations and charge you for them in your invoice. But remember, with your reservation fee setup, your guests will have already paid for these fees, so you aren't really paying any extra money!
Guests View of ReserveAmerica
ReserveAmerica will give you more reach for guests to find your park. How will making reservations on ReserveAmerica look? It will basically be the exact same format as the Firefly Reservation Portal, just shown on ReserveAmerica. So the same online reservation process your guests already know, will now just be available through ReserveAmerica as well. Here is the link to the home page for ReserveAmerica: https://www.reserveamerica.com/. Guests can search for the park or location that they want. Once they find your park, this is what their book now page will look like.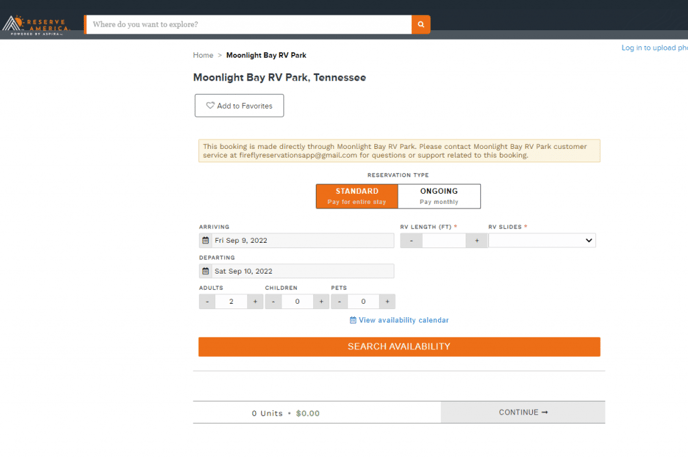 Then they will just continue through the reservation process like normal. You will see the reservation come through like you normally do, and guests will mange their reservations just like they normally do. ReserveAmerica listings offer more opportunities for your guests to find you and enjoy your great parks!
Disconnecting from ReserveAmerica
To disconnect from ReserveAmerica, go to Settings --> Channel Management. Then click Manage next to ReserveAmerica, and simply click disconnect property. It's as simple as that!