Firefly supports sending SMS message as another way to stay in contact with your customers. This form of communication is on top of emails guests receive to stay informed about their reservation.
SMS messaging is an add-on you can choose to subscribe to if you want to enable SMS messaging for your property. Add-on pricing information can be found on our pricing page. Follow the steps below to enable and set up SMS messaging.
Subscribe to the SMS Add-on
To subscribe to the SMS Add-on, click on your name on the top right of your screen and click Account. Next, select the Add-ons tab. Check the SMS Messaging add-on checkbox under the list of Available Add-ons and click Save.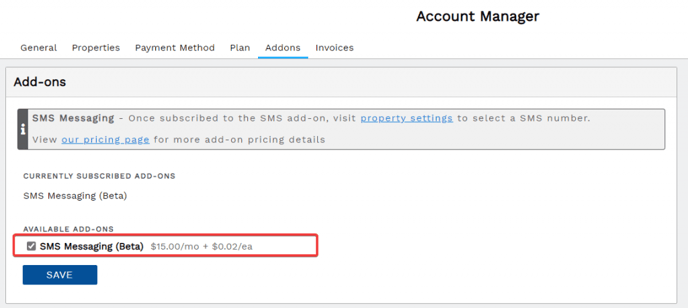 Select a SMS Number
You are now subscribed to SMS Messaging. Next, you will need to choose a SMS Number. To select a number, go to Settings > Property, and on the General tab, click Select SMS Number.

You will then see the Select SMS Number page. Enter your desired area code and click Search.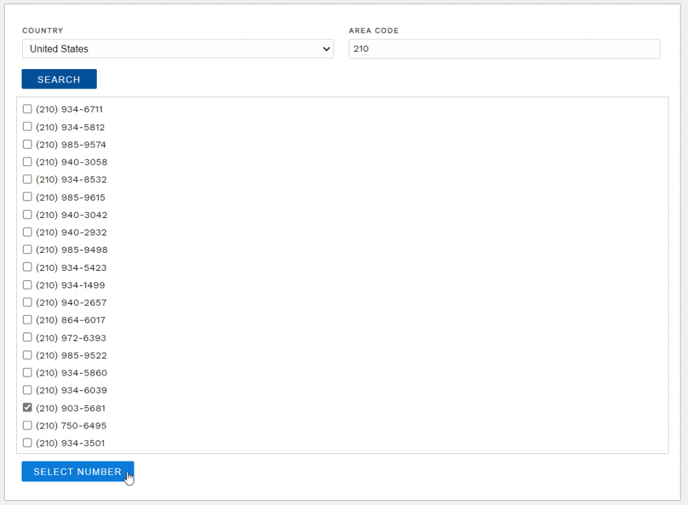 If you don't like any of the options, click Search again and a different set of numbers will show. Select the number you want to claim, and click Select Number. You will return to the general settings page and you will see your claimed number.
Customize SMS Templates
SMS templates can be customized just like email templates. Under Settings, select SMS Templates to view all available SMS templates.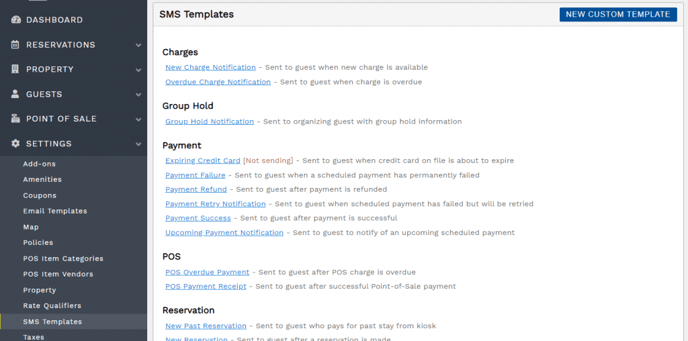 Click on any template to edit the template message, or click New Custom Template on the top right to create a new custom template.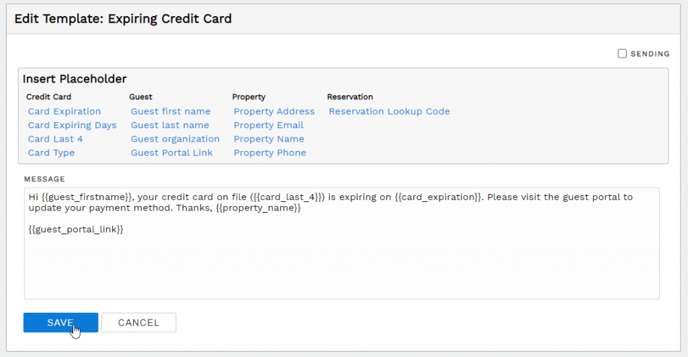 You can click any of the placeholders to insert that placeholder into the template. At the time the message is sent, the placeholders will be replaced with personalized values for the recipient. You can uncheck the Sending checkbox on the top right to disable this template from sending.
Send Mass SMS Message to Guests
If you ever need to send a SMS message to one or many guests, go to Guests > SMS Message Guests to easily send a message to your guests. You can load the message contents from a template by choosing a template in the Load from template dropdown. Choose a date range to show a list of guests that have a reservation at any point in that range, and select which guests you want to send a SMS message to.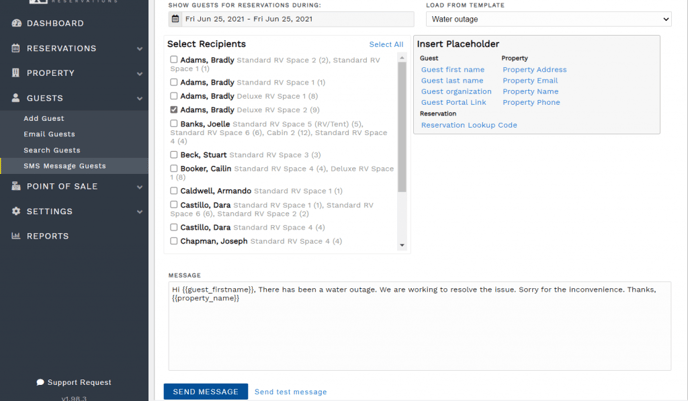 Once you have selected the recipients and finalized your message, click Send Message to send the SMS text. The message has been sent!
SMS Conversations with a Guest
To view SMS messages that have been sent to a guest, go to the reservation and click the Notifications tab. You can click the SMS tab to see all SMS messages and click the Email tab to see all emails sent to the guest.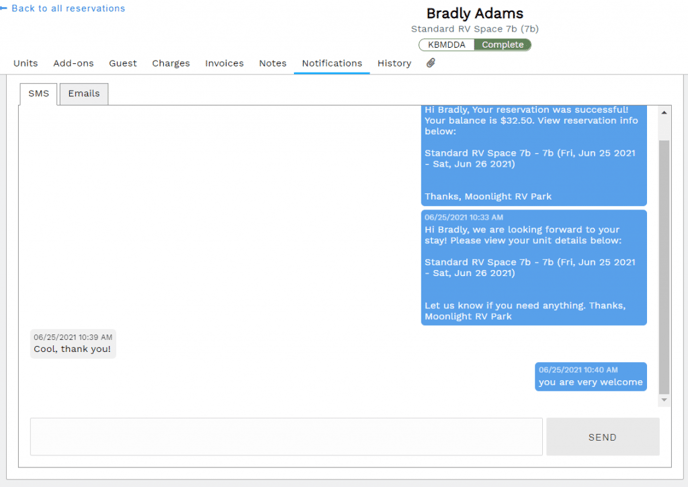 That is all there is to SMS messages! Enable SMS today to starting keeping your guests in the loop via texting!