You can add and remove new users, as well as update their permissions in the User Settings. Follow the steps below:
Add a New User to Firefly
Adding new users to gain access to your Firefly Park has never been easier!
Using the left menu, click on the Settings Drop Down, and Click Users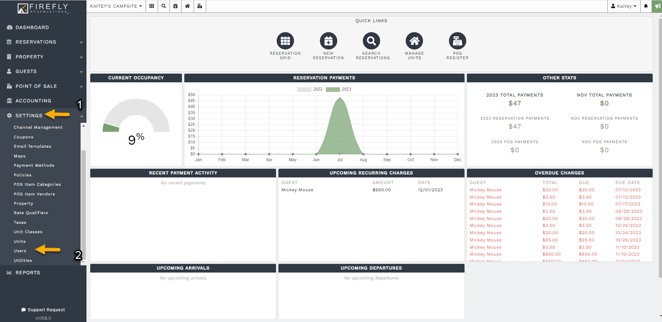 Tip: You can also go directly to your user settings by typing this into your browser's omnibar: https://app.fireflyreservations.com/users
2. Click, Add User

3. Enter the following information:
a) First Name
b) Last Name
c) Email
4. Check the boxes next to the permissions you want the new user to have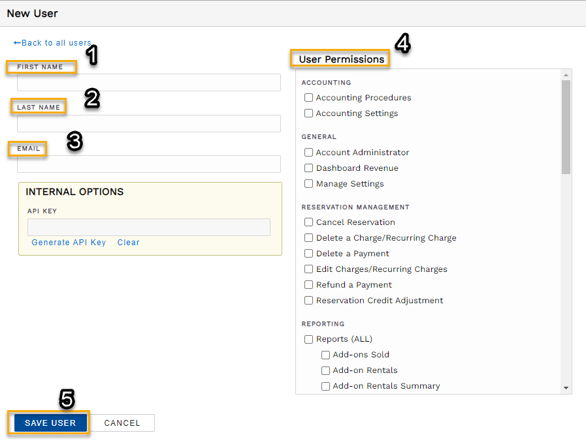 5. Click Save User
Check out this video below!
Once finished, select Save User. This will send out the Firefly Activation email to the email entered for the user.
Note: This email comes from: no-reply@mg.fireflyreservations.com - If you don't see the activation email in your inbox please check your spam folder. In some cases, Email services may be using blocking or filtering systems. In order to ensure you receive Firefly system emails, add this email to your 'Safe Senders List': no-reply@mg.fireflyreservations.com
This email will prompt the user to set a new password that they will use to login to Firefly going forward.
Remove a User from Firefly
1. Navigate to your User Settings
2. Click on the user that you wish to delete
3. Click Delete User
4. You will be prompted for a confirmation, and then click Delete for the second time
Updating Existing User Permissions
If you already have a user created, but you want to add or remove their ability to view, or edit something, you can make these changes in the specific user account.
1. Navigate to the user (app.fireflyreservations.com/users)
2. Click on the user you would like to edit
3. Check or uncheck the box next to the user permissions you wish to add or remove
For more information about what each checkbox does - visit this article