How to use the interactive map builder
Interactive maps make it easy for potential guests to see available units at your campground. By looking at the map, they can easily identify a location they are interested in, and select the location to book it immediately.
To create your interactive map, follow the steps below.
1. Upload a map image
Under Settings, click Map. If this is your first time to add a map, you will see a rectangle with a dotted border where you can drag an image to upload. You can also click inside the upload area to select a file. If you have already uploaded an image, you can select Upload New Map to show the upload area again.
You can use a simple image editor to make a map, such as Microsoft Paint, or a vector editor like InkScape, Illustrator, or Gravit Designer, which was used to make the map below. You can also upload an overhead satellite image from Google Maps. Contact us if you would like more info or need help getting a map made.
2. Linking units on your map
Next, we need to link each of your units on the map. This tells Firefly where each unit is at, so guests can see live availability from the reservation portal just by looking at the map.
To start, click Edit Map. Click on each corner of a unit, ending on the first corner you started with. When the shape is complete, a dialog will show so you can select the unit you just outlined. Select the unit, and click Save. You can drag any corner to adjust the shape you just created over the unit. Repeat this step for each one of your units.
Click Finish Map Edit, click a unit, and select Remove from map to unlink the unit. This does not effect the unit in any way other than removing the shape from the map.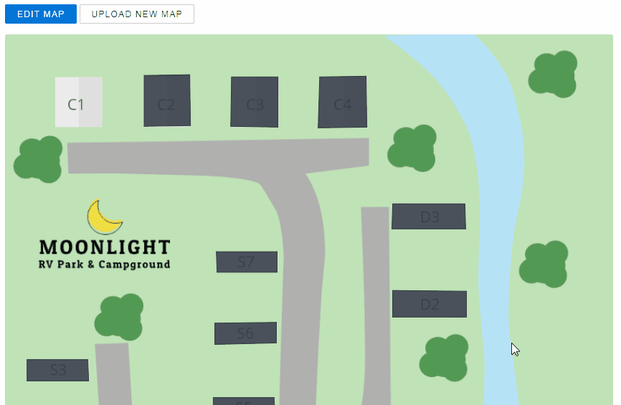 3. Viewing the map on the reservation portal
Now that your map has been set up, open your reservation portal. Search for available units by entering any search parameters. Select the Map tab, and you will see the interactive map with each available unit in green and unavailable unit in red.
Click any unit to view more info about that unit, and click Book to add that unit to your card. You can switch back to list view at any time by clicking the List tab.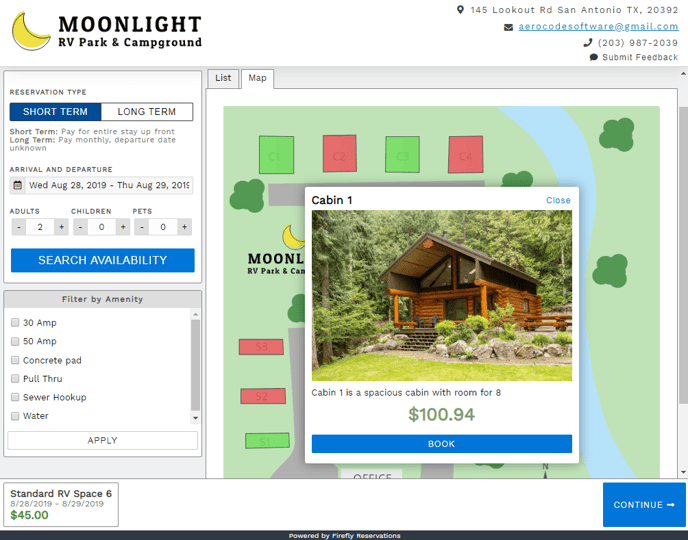 That's it! Guests can now choose from list view or map view depending on their preferences. Anything to make it easy for guests to stay with you, right?