It is important to be able to process credit cards online so you can capture payments at the time a customer is willing to pay. Firefly allows you to collect a deposit amount of your choosing at the time the guest makes a reservation.
Our payment processing partners
Firefly offers two payment processing integrations: BASYS and Stripe.
Our recommended processor is BASYS because of their low rates, exceptional personal service, and payouts as fast as the next business day. BASYS offers rates of 2.85% + $0.20 per transaction plus $15 per month. There are no other fees or taxes, no contracts, and the rate is the same no matter what card type is used. Only customers in the USA can currently use BASYS.
Stripe offers very fast setup times and international currency support. You can be connect to Stripe and start processing payments within minutes. Stripes rates are slightly higher at 2.9% + $0.30 per transaction. New Stripe accounts may experience a delay in payouts (14 days or more) temporarily while they monitor the health of your account. However, once you have established a good reputation regarding refunds and chargebacks, they will remove the payout delay.
To get started processing payments, follow this guide to set up with BASYS and follow this guide to use Stripe.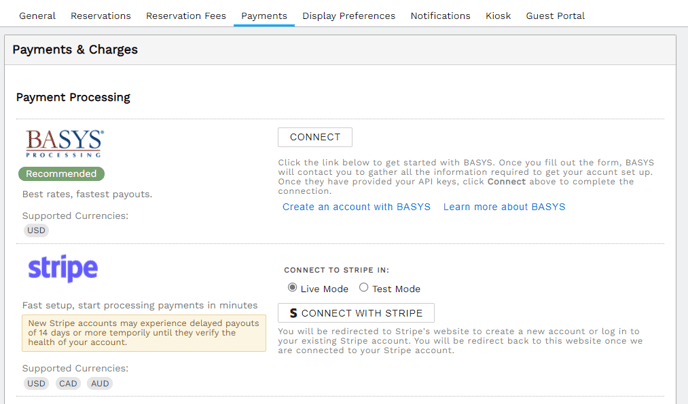 Processor Transaction Fees
| Processor | Transaction Type | Transaction Fees |
| --- | --- | --- |
| Stripe | Credit card - Manual entry | 2.9% + $0.30 per transaction |
| Stripe | Credit card - swipe card with terminal | 2.7% + $0.05 per transaction |
| Stripe | ACH | .08% ($5 max) |
| BASYS | Credit card | 2.85% + $0.20 per transaction |
| BASYS | ACH | $0.35 |
Processor Monthly Fees
| Processor | Monthly Fee |
| --- | --- |
| Stripe | $0 |
| BASYS | $15 |