So your park is setup to your liking, and you are ready to get out of the trial mode and go live with Firefly! Firefly allows park's two different options for payment methods for your Firefly Account, Credit Card or ACH bank account.
Adding a Payment Method on File
To get to your account management page, click on your name at the top right of Firefly, then click account. (only account administrator users are able to access this page) Click on the Payment Method tab, and you can enter in a Credit Card, or link an ACH bank account. If you link an ACH bank account, you will have to verify the bank account. Stripe will deposit two small amounts into your bank account within 24-48 hours. Once you see the two amounts in your bank account from Stripe, you will enter them into Firefly and click verify.

Verify amounts. note: enter whole number only, not the decimal amount
For example, for $0.22, enter 22
After you verify the two amounts, your account payment method will be successfully connected. Only one payment method is needed, but you can put both a credit card and bank account on file. If you add both a verifified credit card and ACH method, you can then choose between the 2 which you would like to set to be the default. You do not need to have both payment methods on file.

Choose the default method, if you have multiple
Selecting a Plan
Once you have a payment method on file for Firefly, you will have to select your payment plan. Click the Plan tab and select the $3.50/reservation plan. This will make your Firefly account live and out of the trial mode! Enjoy Firefly!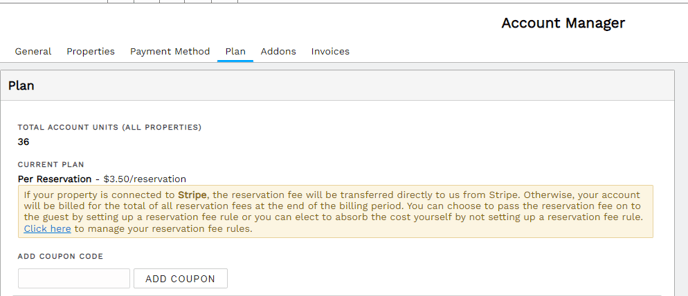 Select $3.50/reservation plan