Stripe allows you to start processing payments within minutes. Follow the guide below to connect to a new or existing Stripe account. If you connect with Stripe, Firefly's $3.50 service fee will automatically be charged and taken from the guest when booking reservations through the online portal. However, the fee would still need to be set up to be passed to the guest in Firefly if booking through the front desk.
Connecting to Stripe
Log in to your Firefly account, and go to Settings > Property and choose the Payments tab. Click the Connect With Stripe button.

You will be directed to Stripes website where you will create a new account. if you already have a Stripe account, skip this step and read below. Your business information such as address and contact information will be entered, as well as your bank account information so Stripe can deposit collected payments into your bank account.
Once all required data is filled, you will click the Authorize access to this account button to complete. You will be redirected back to the Firefly website.

If you already have a Stripe account, select the Sign In link in the very top right. Enter your username and password to sign in. You will now see the below screen where you can select the account to connect.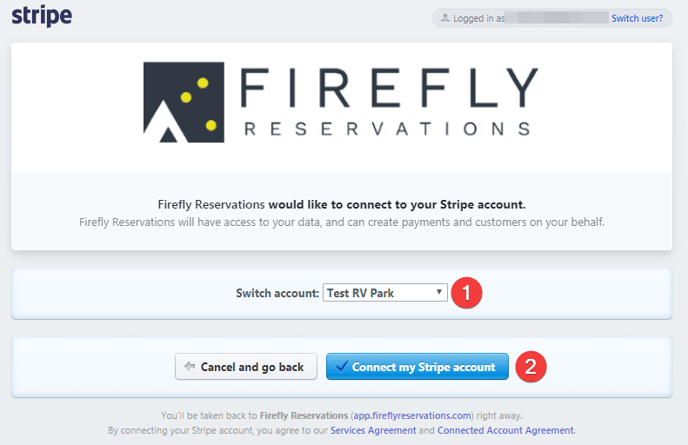 Select the account (1) if you have multiple accounts. Click Connect my Stripe account (2) to complete the process and return back to Firefly.

You will now see the green Connected to Stripe button. That is it, you are now ready to accept credit card payments! If you ever want to disconnect from Stripe, just select Disconnect from Stripe.
You can log into your Stripe dashboard at any time at stripe.com. They have a very user friendly dashboard that allows you to see all payments, run reports, and even view when your next deposit to your bank account will be.