How do I add manual reservations? Do you have reservations that happen in person or on the phone? You can make reservations can be made from a list or map view.
1. Go to your Dashboard https://app.fireflyreservations.com/ Note: You may be prompted to sign in
2. Click on the New Reservation Icon

or Reservations --> New Reservation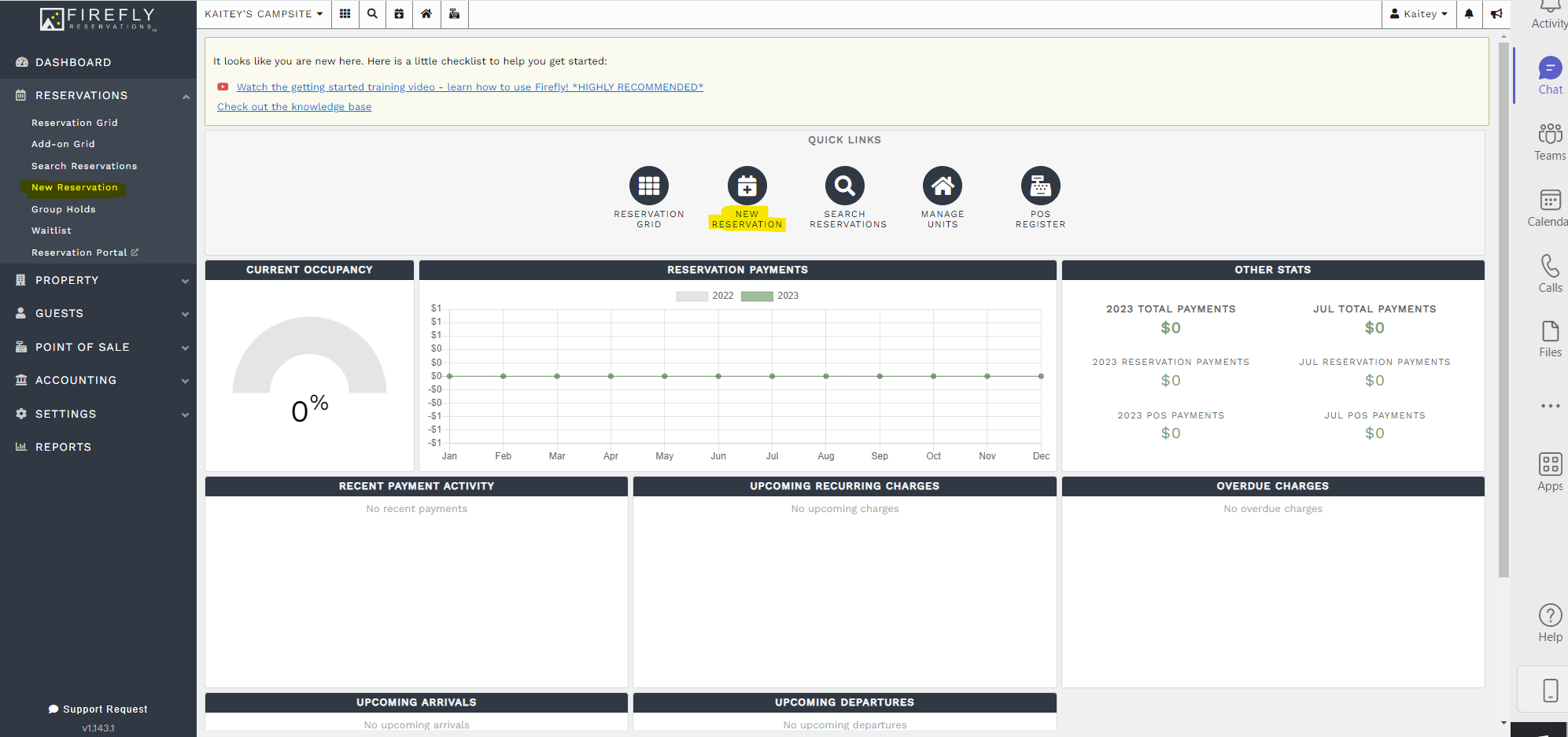 Next: When here, you will be prompted with a form that looks just like the online portal for your customers, lets go through it.
The required* information must be filled out before searching for available units.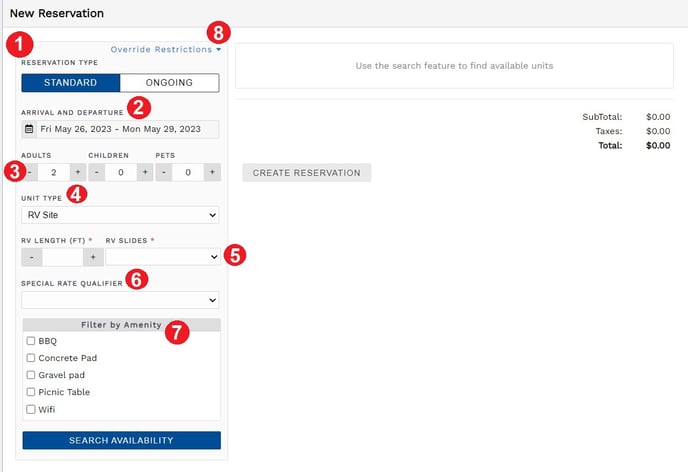 Internal New Reservation Form
1. Choose whether you are making a standard (specifying a departure date) or Ongoing (No departure date given) reservation.
2. Set the Arrival and Departure Date (if standard reservation)
3. Specify occupants as Adult, Children, and/or pets.
4. Select the unit type you wish to search for. Any unit types you have setup within your unit specifications will show up in this list to choose from.
5. Specify RV Restrictions (if unit type is an RV Site). What is filled out here will be determined/can be set by going to Settings > Property > Reservations > scroll to find the Available Unit Search checkboxes. This is the same as the online reservation portal.
6. If applicable, select any Rate Qualifiers you want to apply to this reservation
7. If applicable, search/filter available units by certain amenities
8. Notice the "override restrictions" button at the top. You can override unit specific restrictions like RV length and min / max night rules, etc. if needed. Simply click the blue dropdown and select any rules set on units you wish to be ignored during your search.
Once filled out correctly for the reservation at hand, select Search Availability. Once clicked, you will then be shown available units for the reservation on the right. Available units will be shown based on all the criteria set above.
View and Select Available Units in a List View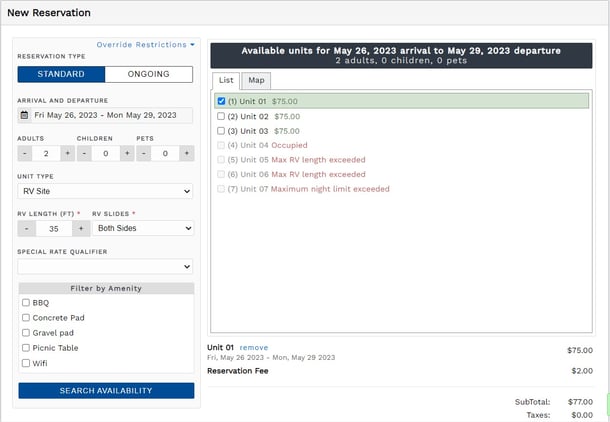 List view of Available Units
Available units will first be shown in the list view. As you can see, units that are unavailable with the reason as to why will be displayed at the bottom unable to be selected. Available units will show first, with the unit totals displayed in green.
Note: If you hover over the green total it will show a popup giving you a breakdown of the rate(s) that is being pulled do determine the total.
Upon selecting one or many units to reserve they will be added into the cart below.
View and Select Available Units in a Map View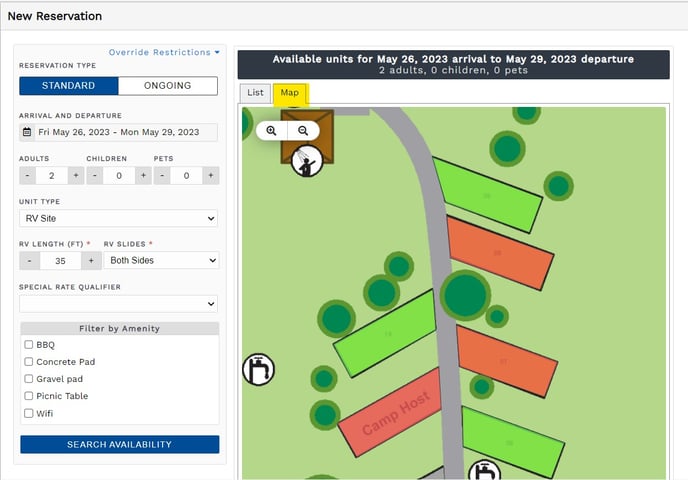 Map View of Available Units
Many people like to view available units and make reservations using a map view instead. Simply select the Map tab to switch from list to map view. Here, similar to the online reservation portal, units in green are available while units in red are not.
Note: Your map must be set up and connected first before being able to use this feature. Read how to do this here.
Select the unit you wish to reserve, a popup with some basic unit info will come up, if satisfied click the Book button. This, like before, will add it into the cart below for us to then finish making the reservation. Repeat for any additional units being reserved under the same reservation. Units in the cart will be highlighted blue on the map.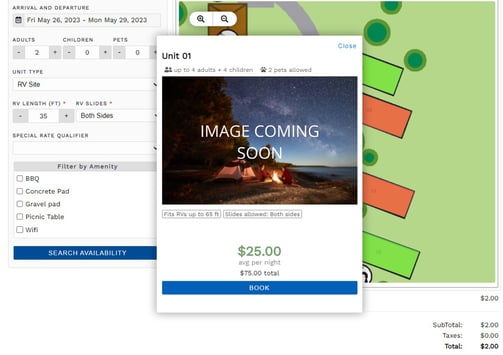 Choose unit and hit book
From the Reservation Grid
You can also choose units and make reservations straight from the reservation grid. When you make a reservation from the grid, you will be led straight to the next step below. Learn how to make a reservation from the grid here.
Finish making the reservation
After the unit(s) for the reservation are added, scroll down to finish creating the reservation. Here you will see the SubTotal, Taxes, and Total for the entire reservation.
Next you will need to add a guest. Hit Select Guest and you will be prompted to create a new guest profile (if a guest has never stayed with you before) or add a returning guest by hitting the returning guest tab.
Then you have the ability to add any add-ons to the reservation. If you add any, the total will be updated to reflect the add-on being added.
Finally, if you want to fill out the other info under the reservation section you can. Then once everything looks good select Create Reservation.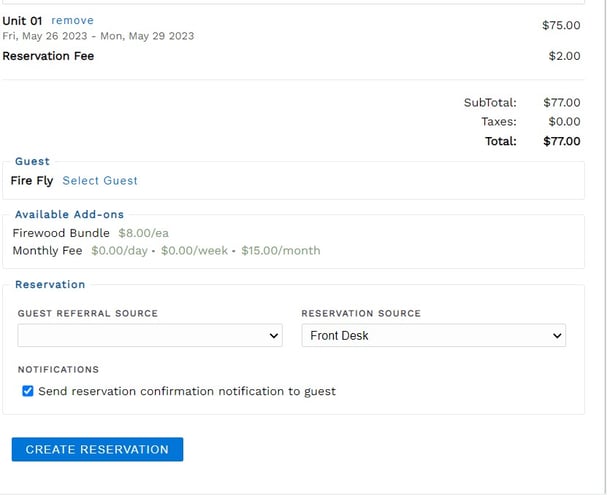 Finish Creating the Reservation
Once created, you will be moved to the reservation management page for that reservation just created. Here you can add payments, manage the reservation, etc.