One of the first things you will do when setting up a new property is add your properties units, which are your RV Sites, Tent sites, cabins, etc. Start by clicking Settings > Units and click New Unit. You will enter the unit's name, and click Save.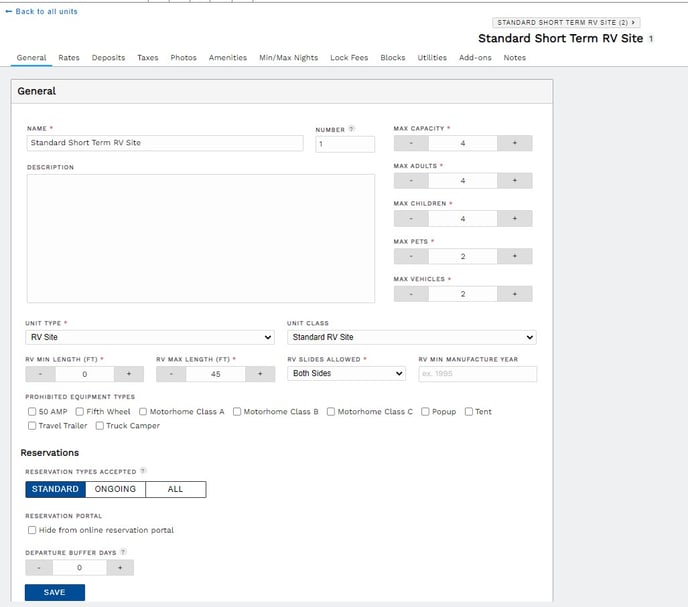 General Settings - Enter all the desired settings for the unit. You can enter the unit #, set the max capacity, select the unit type & class, specify RV restrictions, and select what types of reservations are accepted. Click Save to save your changes.
Rates - Select the Rates tab to edit the rates for this unit. Follow these detailed instructions on how to add rates. You must add a daily, weekly, and monthly standard rate. Special rates are optional.
Deposits - Set up deposit rules. Follow these detailed instructions on how to add deposits
Taxes - Select any taxes that apply to this unit. Add taxes under Settings > Taxes.
Photos - Drag and drop or click to select photos of the unit. If you have multiple photos, you can drag and drop to rearrange the photos.
Amenities - Select all amenities that apply to this unit. Add amenities under Settings > Amenities if you have not already set them up.
Minimum/Maximum Nights - If you require reservations to meet a minimum or maximum night requirement, click Add Minimum Night Rule or Add Maximum Night Rule to add a new rule. Select the date range the rule applies to, and the night minimum/maximum.
Lock Fees - Add lock fees for guests to be able to purchase to guarantee the site they choose upon booking.
Blocks - If this unit is to be blocked off for any reason (repair, out of season, etc), add a new blocked off date range by clicking Add Blocked Out Date.
Utilities - Record or view utility readings.
Add-ons - Add required add-ons as specific items or fees the guest MUST purchase and pay for if they book a specific unit.
Notes - Add any notes to a unit. For internal purposes only, guests cannot see what is written in the notes field
Cloning Units
That's all! You have set up a unit. Chances are, you have many more units that are very similar if not identical to this one. If so, you can simply clone a unit as many times as you need to create identical or similar units. To start, click the Options dropdown on the top right, and click Clone Unit.
Select the # of times you want to clone the unit, and click OK. This will duplicate the unit you just set up and all it's settings to make more identical unit. You can then return to the list of units, and click each unit to update it's name and/or unit #.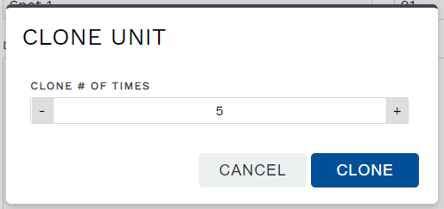 After cloning units, you will have multiple units with the same number and similar names (Unit Name (Copy 1), Unit Name (Copy 2), etc). Use the arrange units feature to quickly update the names and numbers of your units as well as set the display order.
Importing/Exporting unit settings
If you make a change on one unit that you want to make to other units, you can use the import/export feature. Click the Options dropdown and select Import/Export Unit Info.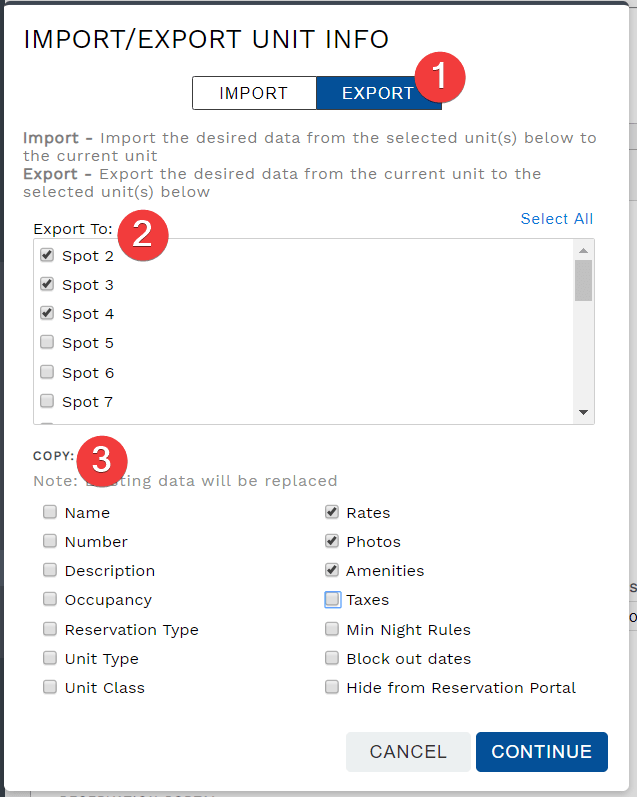 First, select if you want to import settings from another unit, or export settings from the current unit to another unit (1). Select which units to import from or export to (2), and choose which settings to copy (3). Click Continue to apply those changes. This is incredibly useful if you need to update your photos or rates for all units. Just update one unit, and then export those settings to all applicable units.