Now that your account has been created, you need to set up your property to get ready for reservations!
Follow this guide to help you set up payment processing, add your property logo, and set up units by adding images and rates. Once you are all set up, you will be ready to send your guests to your personalized reservation portal to start accepting reservations.
Also make sure to schedule your welcome to Firefly training/walkthrough with one of our amazing customer success associates. Schedule your training here now!
Set up your property
Rather watch a video?
Click Settings > Property to view your basic property settings.
General
In the General tab, you will enter your property name, address, phone, and email. Upload your property logo the guest portal and email notifications to your guests will have your brand. Also add your property description and directions.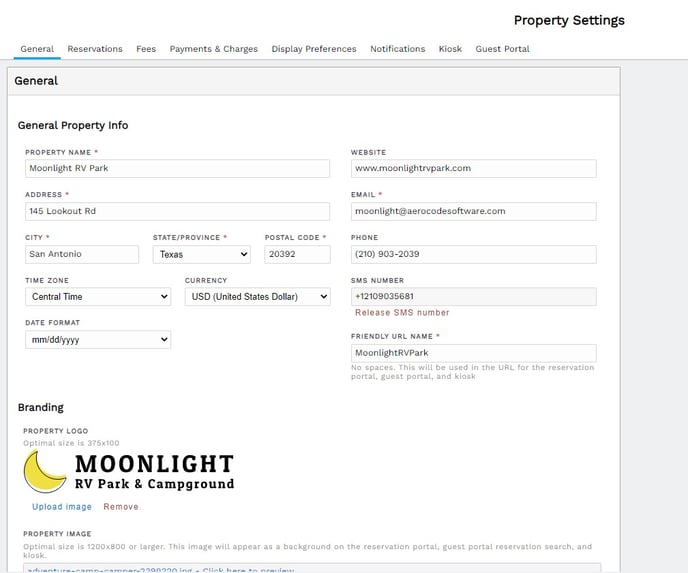 Reservations
Set your reservation settings here:
Reservation Portal URL: This is the link you will send guests to from your website to make a new reservation. Just add a 'Book Now' button to your website that goes to this URL when clicked. This is your personal property reservation portal.
Rate Calculation Mode: Choose Prorate or Waterfall. Read more about each option here
Max days out to allow a Reservation - The number of days out in the future a guest can make a reservation.
Reservation Hold Minutes - The number of minutes a reservation is held in a guests cart while they are completing their reservation. Even though they haven't completed the reservation, another guest will not be able to reserve this unit until the reservation is complete or the hold expires.
Primary Unit Type - The unit type most common on your property.
Available Unit Search - Customize what information you require guests to provide when booking a reservation. Checked boxes will add a required field for guests to fill out on the online portal and for yourself on the internal reservations page. This information will filter unit search results based on your unit specifications.
Referral Sources - Customize this list by adding all sources a guest might hear about your property. Guests have an option to choose how they heard about you on the guest portal.
Reservation Success Message - This is the success message displayed to the guest as soon as their reservation has successfully been made on the reservation portal.
Reservation Portal Instruction: Add a message or instructions that you want guests to see. This will display on the top of your online reservation portal.
Payments
Getting set up to accept credit cards is very simple. You can connect to one of our two payment processors:
BASYS: BASYS is our recommended payment processor due to their great rates, fast payouts, and personal service. Learn more about connecting to BASYS here.
i3 Merchants & Bridgepay: i3 is a partner that will become like trusted family, providing dedicated account management and a caring customer support. They offer competitive rates and quick setups. They offer a variety of Gateway API-Processors and daily payouts. i3 provides newer EMV Chip Readers, reducing chip reader errors and failures. This makes taking transactions fast and reliable. Learn more about connected to i3/Brdigepay here.
Stripe (Upon request only currently): Stripe makes it very easy to create a new account or link an existing account. Just click the Connect to Stripe button to get started. You will be directed to Stripe's website to create or link an account. You will enter you business information as well as your business bank account so your processed payments can be deposited into your account. That's it! Once complete, you will be redirected to Firefly and you will see a green Connected to Stripe button. Learn more about connecting to Stripe here.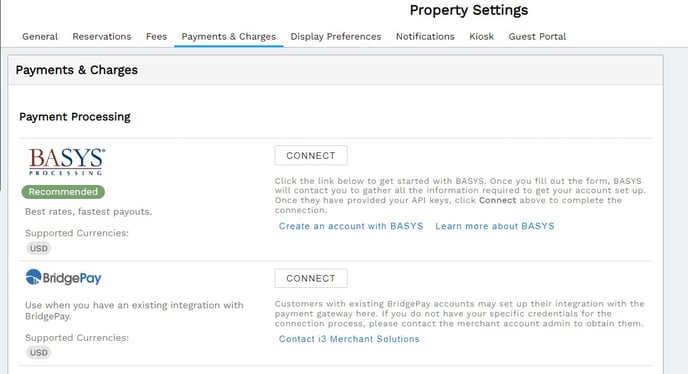 Notifications
When a new reservation is made on the reservation portal, you can elect to receive an email notification of the new reservation. Enter the email addresses here you want to receive this email. Separate multiple emails with a comma (,).
Kiosk
This tab displays your personal kiosk URL. If you have a kiosk computer available to your guests, this is the website you will display on the kiosk. This allows guests to check in, make a reservation, manage their reservation, or even pay for a past reservation even when no office employees are present.
Guest Portal
The guest portal is the guests way to manage their reservation and communicate with the park. Read more about the guest portal here.
Map, Policies, Taxes, Add-on Items, Amenities, and Utilities
From the Settings menu, you can access the pages to add your park map, create policies, add and update taxes, add-on items, amenities, and utilities.
Map
Upload your park map into Firefly by going to Settings > Map. Once uploaded and you have all of your units created you can set up your map to be interactive by connect your map to your units. Learn more here.
Policies
Utilize Firefly's advanced policies to collect E-Signatures on your parks policies from your guests when they are making a reservation. Learn more here.
Taxes
Enter any taxes you will be collecting for units, add-on items, or any other charges here. Just enter the tax name and rate. You can add as many taxes as you need.
Add-on items
Add-on items are items or charges you will be using repeatedly. This can be for such things like golf cart rentals, firewood bundles, Wifi access fee, etc. You can add these now or come back at any time later to add or update add-on items. Add-on items can be added to an existing reservation, or add-ons can be available to be purchased/rented on the reservation portal when the guest makes the reservation. Read more about how add-ons work here.
Amenities
Amenities are simply the available perks of each unit. Amenities can include water hookup, sewer hookup, 50 Amp Service, Wifi Access, Concrete pad, waterfront access, etc. Add all the possible amenities under Settings > Amenities
Utilities
Utilities are any metered utility you plan on charging for, such as Electricity or Water. Add each utility and it's per unit rate under Settings > Utilities. Later, when it is time to record utility readings, you can do so under Reservations > Record Utilities. Read more about recording utilities here.
Customize even more settings in Firefly as you see suitable
Adding Units
The last major step is to add your units. First you will want to create your Unit Classes. These are the names of the different groups of sites you have. For example, "50 amp Sites", "30 amp Sites". To do that navigate to Settings > Unit Classes. Then Navigate to Settings > Units to view your properties units. To add a new unit, click New unit. For detailed steps on setting up a new unit, click here.
Once your unit is set up and you have your rates set, you can clone the unit if you have many units that are similar or even just similar. Just click Options > Clone Unit to clone a unit. This prevents you from having to set up each individual unit separately, you just set up 1 unit and clone it many times.
If you already have other units set up and you want to make a change to all the units, you can just change one unit, then export those individual changes to another unit. Once the changes are made in the current unit, select Options > Import/Export Unit Data to export the changes.
Setting up POS
If you plan on using Firefly to also manage your camp store or other related area you can setup the Point of Sale system right in Firefly. Follow these detailed instructions to set up your categories, items, and register.